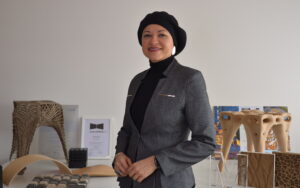 Hanaa Dahy is a registered architect, engineer and material developer, founder and leader of BioMat TGU@TTI GmbH, and an Associate Professor at Aalborg University in Copenhagen.
She earned her PHD from ITKE in Stuttgart in 2014 with Excellence and earned her Bachelor and Master's Degree in 'Architectural Engineering' in 2003, 2006 respectively from Ain Shams University in Cairo with Honours. She established her office in 2003 in Cairo and worked on different architectural projects in Cairo and the Middle East before moving to Germany in 2009 to complete her doctoral studies and to merge her experience with the European architecture and industry.
Dahy raised different sustainability aspects and ecological concerns towards building materials and addressed this in different teaching courses, publications and within collaborations with industrial partners in diverse research-industrial projects.
She developed, designed and manufactured a number of innovative sustainable building products that were widely presented in international exhibitions and attracted a lot of industrial interests. Among other research areas, she is particularly interested in biomimetic principles, sustainability and their impact on architectural practice and applications. She has pending European and international patents, earned the best of Materials and Design award (Materialica) in Munich in 2015 and the Material Prize award (MaterialPreis) in 2016 from the Design Center of the state Baden-Württemberg in Germany, a fellowship for the innovation of university-teaching in 2017, a number of research/industrial project funds and is a member of a number of European and international scientific and professional bodies. Her teaching and training are in the area of architectural design, composites, structure and materials, smart systems, fabrication and biomimetics.
---
Inventions:
European Patent (EP 3166765A1, EP2965882B1)
International Patent (WO2016005026A1)
US Patent (US20170144327)
Chinese Patent (CN106604806A)
---
List of prizes:
Fellowship for (Innovation in der Hochschullehre)- Baden Württemberg Stiftung I Deutsche Stifterverband 2017
Material Prize 2016 (Design Center-Baden Württemberg)
Best of Materialica Design + Technology Award 2015
Award for the graduation Project from the UIA I Egyptian National Sector – 2003
Honorary Award – Mobile Clinic, New York, USA – 2003
Award – Students Union- Faculty of Engineering- Ain Shams University – years 2003, 2002, 2001
First Prize Award – design competition of Samha Gardens, Emirates, with CPAS – 2002
First Prize Award – Court-House design in Dubai, with CPAS – 2001